The project born in 2010 of the Sant'Egle organic farm moves behind the personal needs of a sustainable life, respectful of the planet, coherent and ethical with its daily choices.
A virtuous project that has been taken as a model by universities, innovative projects, foreign heads of state and common people who want to make a difference.
Many are the prizes won that certify the veracity of what is respected throughout the process of our project.
Here you will find these daily gestures. If you do not share certain choices, we invite you to come and visit us for a chat, maybe you could find a new way to live on this planet :-)
• Waste and recycling: we have reduced the purchase of packaged products to a minimum. We make and invite our guests to separate waste collection and compost on site reusing the humus to fertilize our organic garden and flowers. We clean woods and roads from illegal landfills and with what we find we have created a project of Creative Recycling, which gives new life to old abandoned objects.
• Catering: we only have fresh fruit and vegetables of the season produced in our organic vegetable garden or bought other organic farms at km0. We offer only dairy products and meat from wild and wild adult animals at KM0.
• Breakfast: in the breakfast buffet everything is produced on the farm or purchased from organic producers at KM0 except for tea and coffee imported.
• Water: every faucet has a water-saving flow reducer. We make both the personnel and the customers of the structure aware of the responsible water use both for washing and for washing clothes. We collect rainwater to irrigate our fields and flowers. We offer free natural or carbonated water and we do not see disposable bottles.
• Energy: electricity is produced by photovoltaic panels that cover the needs of the entire project and also allows us to sell the energy produced in more. The whole project is lit with LEDs and has timers for energy saving. All household appliances are Class A ++ certified, we make customers aware of the change in towels at the customer's request (with consequent savings in water and detergents).
• Heating: a condensing boiler and a solar thermal monitor all the hot water needs of the project.
• Mobility and Transportation: we have a LPG car for our Green journeys. Being an area where there is no train station or a good public bus service, we offer free electric charging for all new hybrid and electric cars. We offer maps, GPS tracks and downloadable tracks and can be consulted off line to enjoy the trails and nature trails, river routes, cycle paths that depart from our structure, without having to take the car. We offer ebike rental.
• Noise: the ancient 17th century farmhouse with large walls that also muffle the sounds of nature. Cartels emphasize that in the common areas the active collaboration of the staff and guests is gratified to maintain the silence that this place offers.
• Promotion of the territory: we offer a self-produced map in recycled paper that promotes and disseminates tourist information, cultural activities in the area. The map is provided free of charge to the local tourist company and to the proloco.
• Laundry cleaning and washing: we use only 100% biodegradable products.
• Products and supply chain: we produce only organic products, the transformation is done in the company according to the ASL regulations and the products imposed by the organic. Our packaging is 100% biodegradable or recyclable. Our labels and boxes made of recycled paper.
• Bio Pool: a mirror of water created without the use of cement but only rocks and a natural resin that holds them together. Inside the water of our well and salt of the WWF Oasis of Trapani. An electrolysis filter transforms the salt into natural chlorine. Reason for which no chemical additive, chlorine and anti-algae is added.
• Bio building: the restoration of the entire 1600 farmhouse was done with bio building materials. The holistic space with its roof lawn is an example of bio architecture where the landscape impact is zero.
• Glamping: a new way of eco-friendly holidays in contact with nature. The Luxury tent are built with wood certified by sustainable forests, painted with water tempera with natural pigments, illuminated and heated thanks to the sun.
AWARDS AND CERTIFICATIONS
1st WWF Italy Award for best sustainable farm in Italy
1st WWF Italy prize for biodiversity conservation
Platinum Trip Advisor structure
1st place in Good Energy Award as best virtuous and innovative award for environmental protection and energy saving.
1st classified as best Italian saffron according to new protocol
Recognition by the Tuscany Region of 5 sunflowers (equivalent to a 5-star hotel)

Top 20 structures for adults in Italy according to Travel Myth

Top 50 structures for a romantic stay in Italy according to Travel Myth

1st classified as Luxury Eco Resort of the year 2019 according to LTG Europe Awards 2019

Top 10 Best Pools in the Word according to Travel Myth

1st place THA, Travel & Hospitality Award 2020

Tripadvisor Travelers' Chice 2020
A special thanks goes to those who believed in our project, who took a cue from what we did and replied, even if only partially, our vision that a better world is possible!
MaTer a sustainable project within the Torre Guaceto Natural Marine Reserve in Puglia, Italy
PuraEco a holistic nutritionism project with offices in Brazil and Argentina
Japanese Minister of Agriculture, MasahikoYamada, a concrete activist against climate change, inequality and war, has brought the Sant'Egle model to Japanese farms for a change from the bottom up.
A group of South Korean organic peach growers came to learn how to make a Stevia Compote.
SOLIDARITY

Every year we donate part of the proceeds to projects that we personally know in which we believe and that we invite you to support.
2010 Sent through mum Cristina (mother of Erika) fridges and beds for an orphanage in Morocco
2011 Donated 5 kilograms of organic spirulina to the Mayer pediatric hospital in Florence, the eating disorders department
2012 Bring shoes, notebooks and pencils to boys and girls in the poor suburbs of Douz, Tunisia
2013 Acquisition of land for reforestation, biodiversity protection and ecosystem restoration
2014 Planted a new holm oak forest for reforestation, biodiversity protection and ecosystem restoration
2015 Donated to dig a well in a village in northern Namibia
2017 Funded project for female artisan women entrepreneurs in Italy
2018 Donated for the protection of the southern whale
2019 Funded Italian Forestry Fund project for the purchase of the Umbrian forest for biodiversity and ecosystem protection
Bio Shop

We are open by appointment only. Please Call before come. We can ship in all Europe. You can shop...

Bio Pool & Hot Tub

The pool area is silent and relaxing. The bathing area is extremely limited in space, meaning...
Heaven on Earth!
The only problem with Sant'Egle is that eventually, you have to go home.
Charleston, SC
Amazing! Sant'Egle is the dream of two passionate people that brings to life a 5-Star experience with justice yet comfortable tones. I marveled at the mansion built in 1600 and how elegantly and tastefully it has been restored. Andrew G, USA

LE PARADIS! produits bio, ambiance zen, propriétaires aux petits soins ! Le dépaysement ! La vue est incroyable, on est au calme, et en meme temps près d'endroits à visiter. C'était notre première expérience et franchement chaque jour je reve d'y retourner. Julie Paris

Heaven! What a lovely place. We enjoyed 3 very relaxing, beautiful days here in the peaceful environs, with the distant sound of sheep bells and the occasional visit from very friendly cat and dogs.
Kates

Burlington, Vermont
Un'Oasi nella Natura...è un vero paradiso per chi ama natura, tranquillità e animali. Daniela A, Cesenatico
Fantastiskt! Detta ställe behöver upplevas! Det är verkligen speciellt på många sätt, och vi var mer än nöjda med allt. Ligger i vackra omgivningar med en inbjudande trädgård och liten pool. De tillverkar själva det mesta som serveras. Rummen var väldigt mysiga och man sov som en stock om nätterna då det både var så tyst och skönt och så sköna sängar. Underbart att vakna och insupa den härliga luften.Värdparet är så tillmötesgående och gör allt för att man ska trivas. Vi tillverkade fårost en dag, och fick sedan avnjuta den med bröd och vin i trädgården, mycket trevligt! Vi längtar efter att få komma tillbaka! Charlotta Svezia
Great place... but don't tell to everybody! we were disappointed because we booked only 4 days. We could have stay more! Simone and Davy, New Zeland

Traumhaft! Wir wollten uns erholen, den ersten Urlaub mit unserem 8 Monate altem Hund machen und die südliche Toskana erkunden! Sant egle war traumhaft, das Zimmer perfekt, der wunderschöne Garten mit Biopool, Hängematten, Sitzgelegenheiten und Grillecke wunderbar! Bei der Ankunft sind wir mit einem schönen Glas Biowein, Brot und toskanischen Spezialitäten begrüßt worden. Lappe Germany
Momentos de Conexão! falar do sorriso através dos olhos, do carinho no atendimento, do amor no preparo da alimentação totalmente orgânica, no empenho em solucionar qualquer eventualidade. Fabiana, Rio de Janeiro
Bio Pool & Hot Tub
Our Organic Summer pool is constructed with natural materials, without a hint of cement, in the shape and appearance of a natural lake.
The pool area is a place for relaxation and silence.
The swimming area is very small and therefore is not suitable for exercise or play activities.
The maximum depth is 1.4 meters or 4 feet 7 inches.
Water purification is entrusted to an electrolysis filter which transforms the whole natural salt from Trapani in the WWF region into natural chlorine that prevents the formation of algae and disinfects the water.
For that your skin will not be ruined by chlorine and algae of chemical origin.
Our Pool is open from 9am to 7pm only for the guests of Sant'Egle.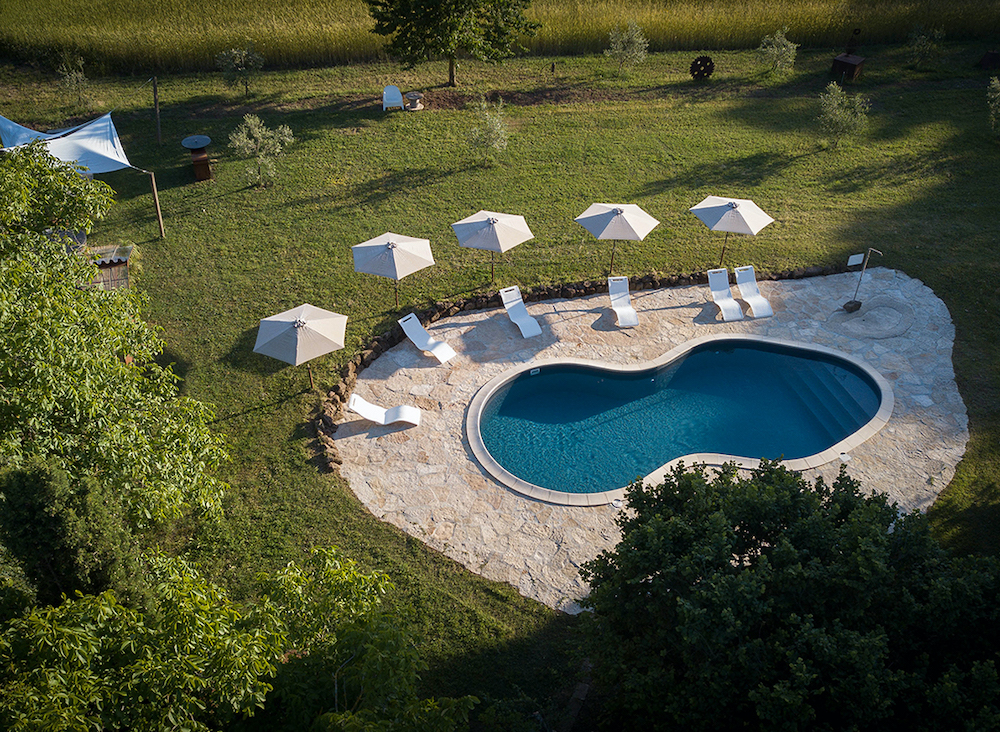 Holistic Space for Retreats
At the Sant'Egle Organic Agriturismo, there is a new multi-purpose space available to anyone who would like to organise courses, cultural events, presentations, shows, readings, or spiritual retreats.
Sustainably built, and fully respecting the guidelines of an energetically passive house, this space breathes as if it were living. It takes in and releases moisture based on its climactic needs, thanks to the use of clay and thatching as thermal insulation in the walls and floor.
The recycled-wood beams follow the curvature of the hill, with natural light flooding in thanks to the side-facing windows.
The entrance has a large window which can be opened. It is kissed by sunrise each morning, looking out over the organic vegetable garden.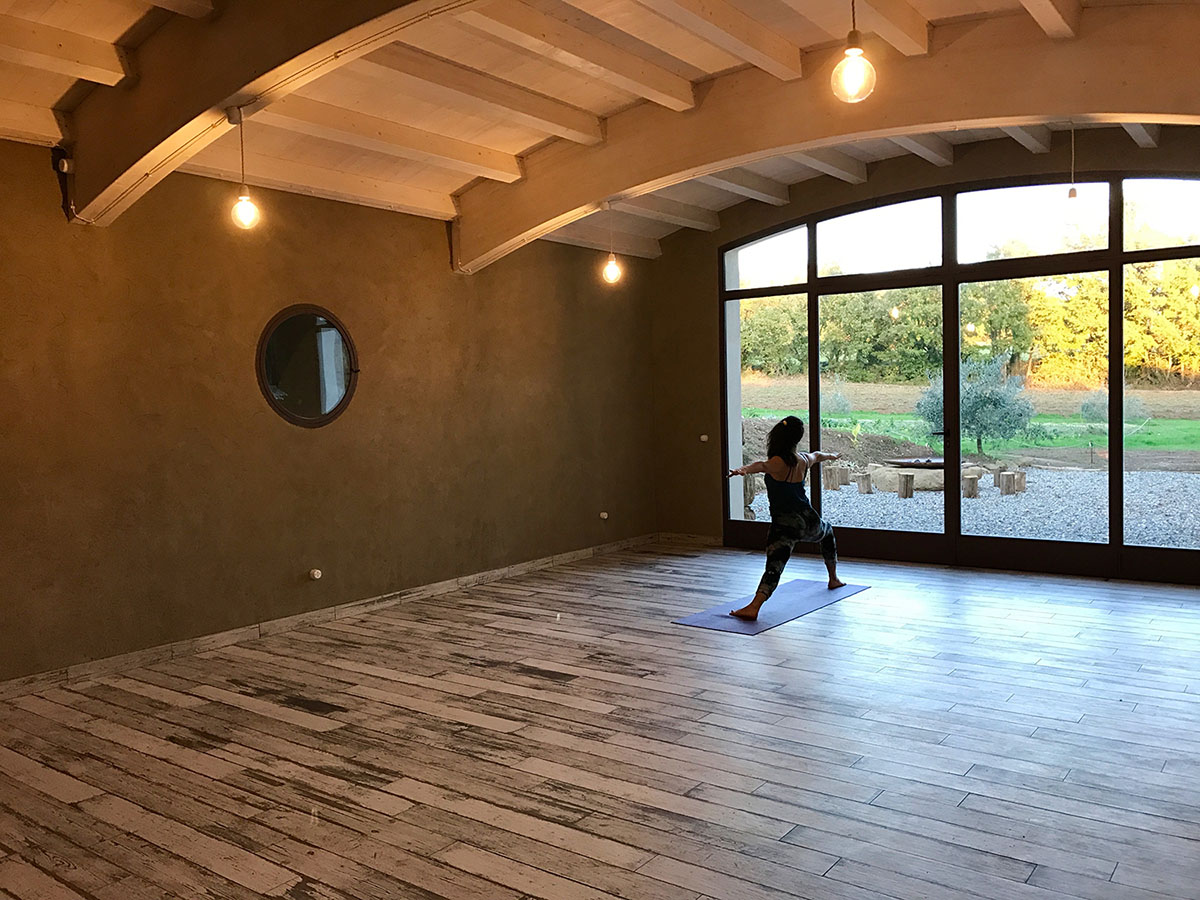 Creative UpCycling
At Sant'Egle, we like to recycle everyday objects and artistic pieces – all those things that consumers would regularly throw away.
Only those who are passionate about land reclamation, bins, landfill sites, and scrap metal can understand the satisfaction that comes with seeing beyond this; the satisfaction in realising that something which is lost, thrown away, broken, old, rusty, or unused, can be transformed into something more.
We at Sant'Egle collect everything, and divide it by material type.
Then, when we can find the time, we sit ourselves down in front of our 'junkyard'.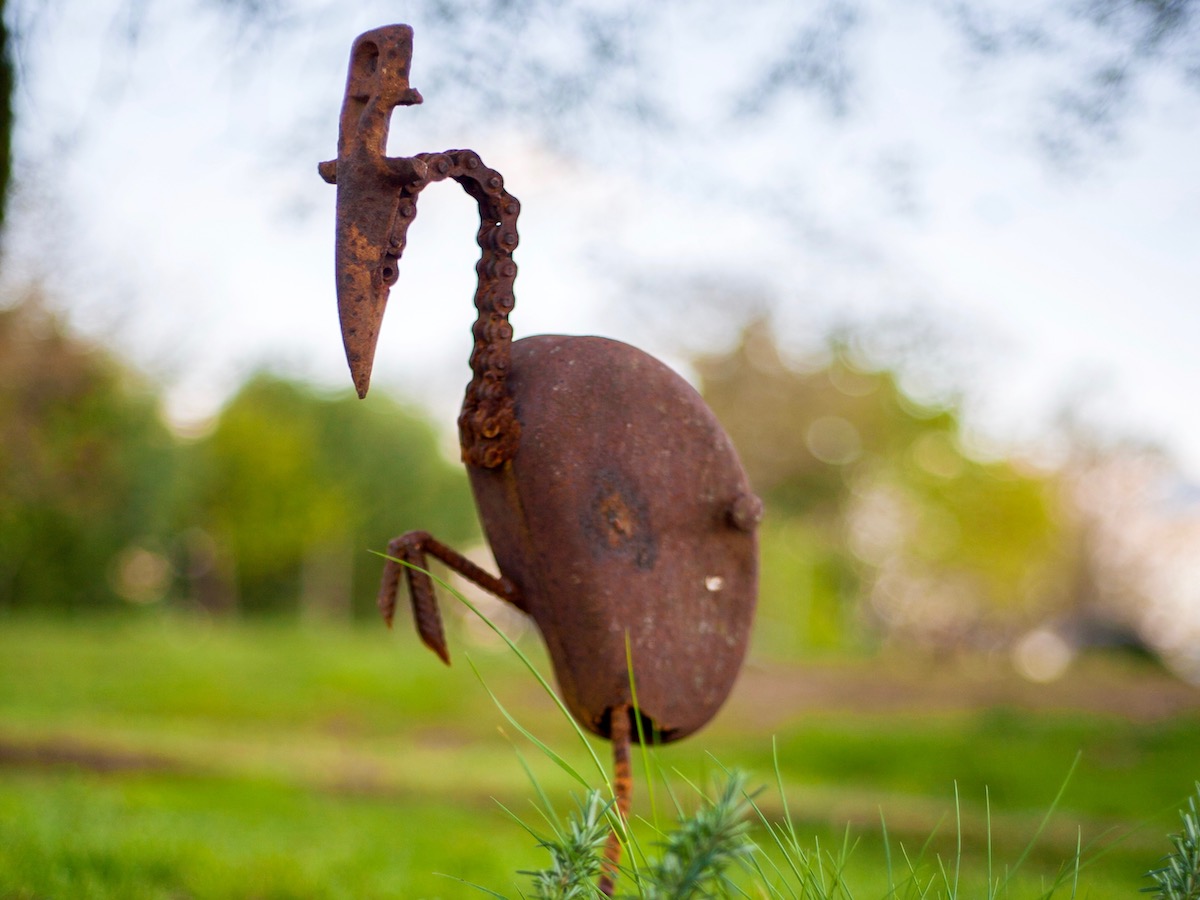 MUST SEE, SANT'EGLE'S

SURROUNDINGS
Do you love nature? Are you a nature photographer? Are you interested in the Etruscan civilisation, the cities of Tufo, the ancient mines, and the hot springs? Are you a cyclist, who loves to follow the rugged pathways on an MTB? Do you want to do yoga, surrounded by nature, or run through untouched forests? Do you want to visit the Uccellina National Park, or go for a dip in the crystalline waters of the Argentario? Do you want to visit the unknown island of Giannutri, or the more famous Giglio island? Do you want to go swimming in the ancient volcano lake, Bolsena, or trek through the beech forests of Mount Amiata? All these activities, and many more, are available through daily excursions from the agriturismo.