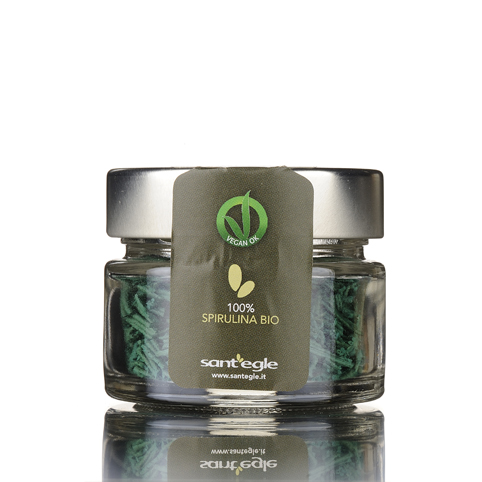 Since 2010 we are the first producers in Italy and the only certified organic producers in Europe
70% Daily Recommended Protein, Iron, and Vitamin B12
Spirulina is an ancient, blue-green aquatic algae with a sweet flavor that has existed on our planet for over three and a half billion years. It is one of the world's most complete and balanced foods, and has already been defined by the U.N. as the best alternative source of food for the future. Each serving of spirulina provides an amazing amount of protein (70%), a unique concentration of vitamins (B complex, D, E, K), minerals (Calcium, Magnesium, Iron, Potassium, Zinc, Copper, Manganese, Chromium, Selenium), 8 essential amino acids, and beta-carotene. Spirulina strengthens the immune system, fights anemia, and helps to cleanse and detoxify the body, as well as helping to retain the health and youthfulness of skin and hair. This super food also increases intellectual retention as well as physical strength and agility. Spirulina is a satisfying food, so it's a perfect addition to the diet of anyone looking to lose weight. It is an ideal protein source for vegans, vegetarians, and coeliacs.
Daily Dosage:
For athletes, vegetarians, or vegans: 5 grams (1 heaping tablespoon)
As a supplement, 3 gr (1 teaspoon)
Available in packs of:

20 gr 10 euro
100 gr 45 euro
500 gr 220 euro (costo di spedizione incluso)
1 kg 360 euro (costo di spedizione incluso)
More info here!
For order, here!