Sant'Egle Bike Hotel e Bike Point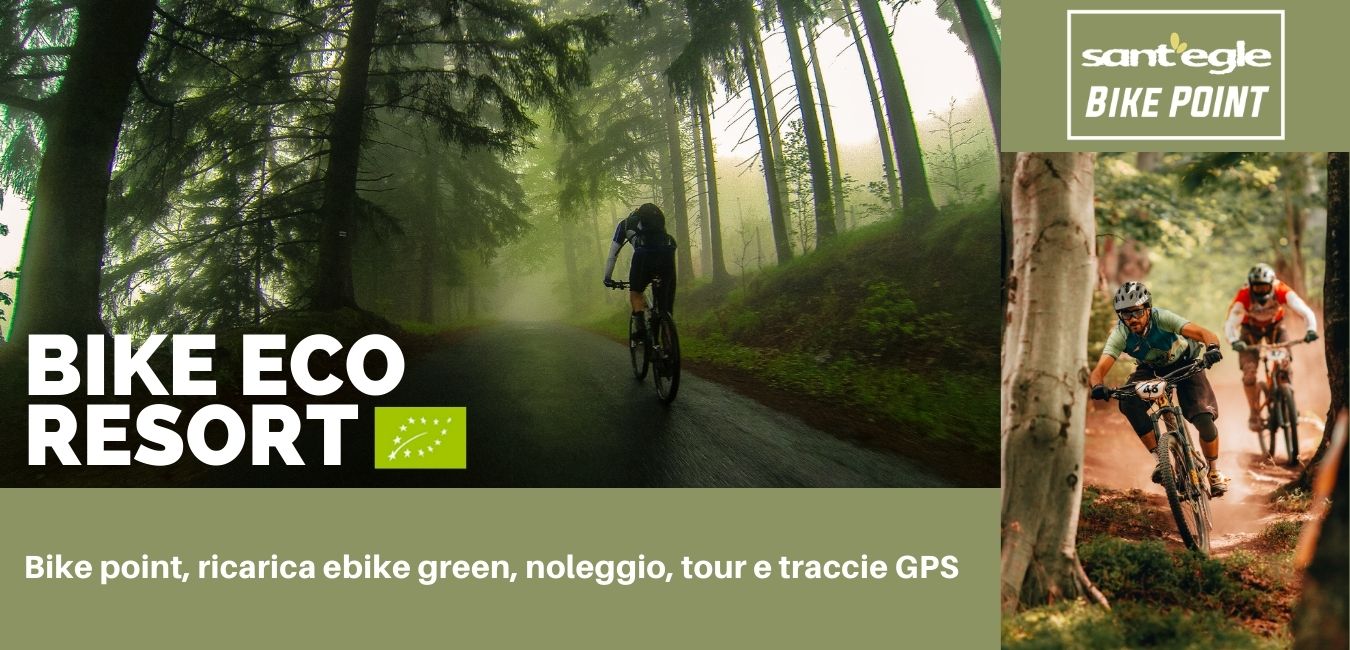 Sei un cicloturista che ha scelto di utilizzare la bicicletta come mezzo di trasporto?
O magari desideri durante la tua vacanza, scoprire con un mezzo ad impatto zero sull'ambiente, la sorprendente Maremma Toscana?

Sei nel posto giusto!
L'Agriturismo biologico Sant'Egle è il Bike Hotel che stavi cercando. Siamo a Sorano a due passi da Pitigliano, Sovana e le Terme di Saturnia.
Scegliendo una vacanza Slow, ricaricherai la mente ed il corpo.
La bicicletta permette di entrare in contatto con la natura, le tradizioni e la cultura del luogo.
Con un passo lento, avrai la possibilità di apprezzare a pieno i paesaggi, il silenzio del vento, scoverai dettagli, nuovi orizzonti, gli odori ed i suoni degli animali selvatici.
Vivrai nuove esperienze, dove la durata e la meta passano in secondo piano.
Qui a Sant'Egle mettiamo a disposizione tutta la nostra passione per la bicicletta e la conoscenza del territorio, offrendo molteplici servizi dedicati al cicloturismo, grazie al nostro nuovo BIKE POINT realizzato grazie alla Camera di Commercio di Grosseto che supporta il progetto della Regione Toscana per un turismo sostenibile e lento.
Qui trovi i nostri servizi dedicati a chi ama o vuole avvicinarsi al turismo slow in bicicletta.
---
SANT'EGLE BIKE POINT
DOVE LA TUA BICI DORMIRA' SOGNI TRANQUILLI
ED AVRA' SOLO SERVIZI ESCLUSIVI OFFERTI DA VERI APPASSIONATI DI BICI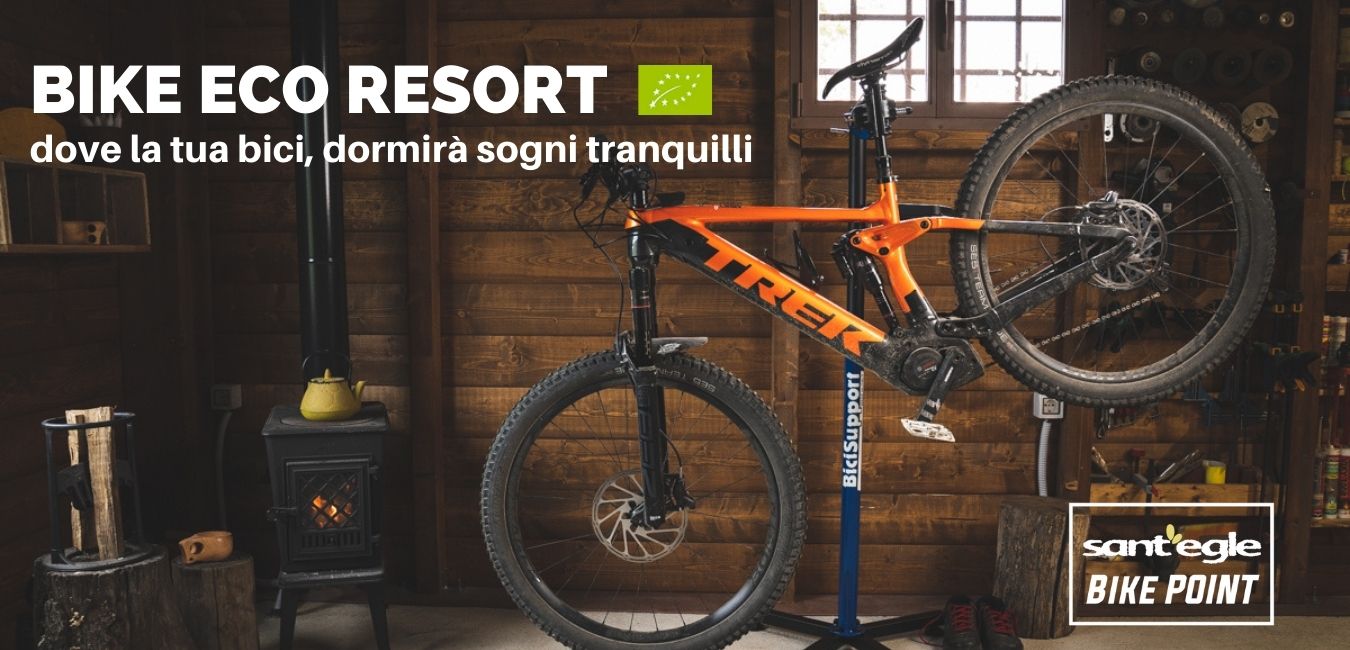 Parcheggio in aree protette
troverai 2 aree chiuse a chiave dove parcheggiare la tua bicicletta in totale sicurezza. Il Bike Point di 25mq e nello spazio olistico di 60 mq.

In alternativa, se preferisci, potrai portare la tua bicicletta nella tua camera o luxury tent.
Ricarica ebike gratuita e green
postazione di ricarica gratuita e GREEN ebike alimentata dai nostri pannelli solari. 100% Energia PULITA e GREEN ad impatto zero sull'ambiente.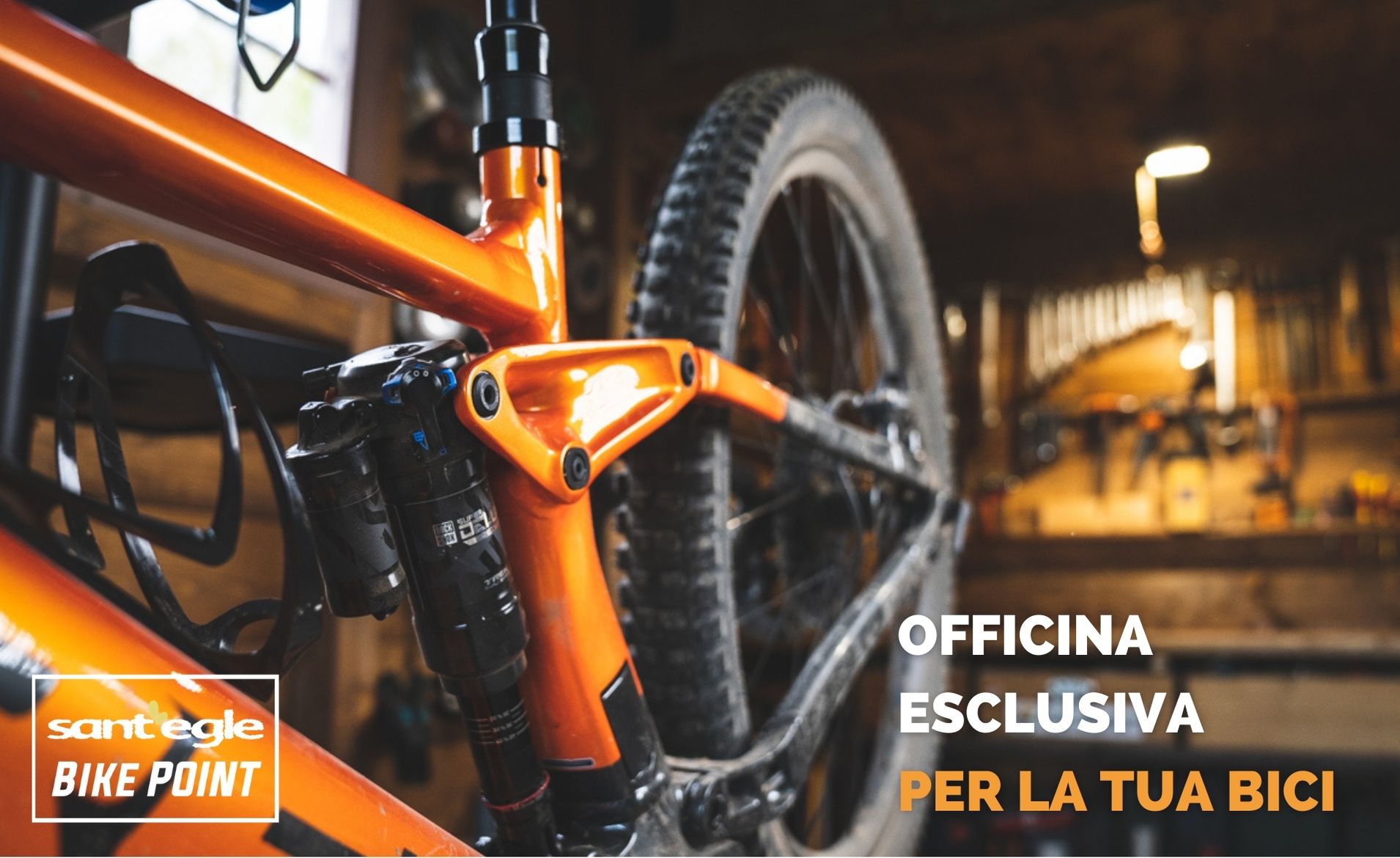 Officina per riparazioni
noi siamo appassionati ciclisti ed abbiamo tutto quello che serve per fare manutenzione alla tua bicicletta.
Eventuali pezzi di ricambio, se non presenti in officina, possono essere acquistati a Pitigliano.
Lavaggio bicicletta
è possibile lavare la propria bicicletta nell'area dedicata.
Noleggio E-Bike
su richiesta abbiamo a disposizione a noleggio MTB elettriche che permettano, grazie alla pedalata assistita, di godersi il bello della bicicletta, senza troppa fatica, anche con dislivelli impegnativi, tipici di questo territorio.
Per altri tipi di biciclette, possiamo suggerire altri noleggi convenzionati nella zona.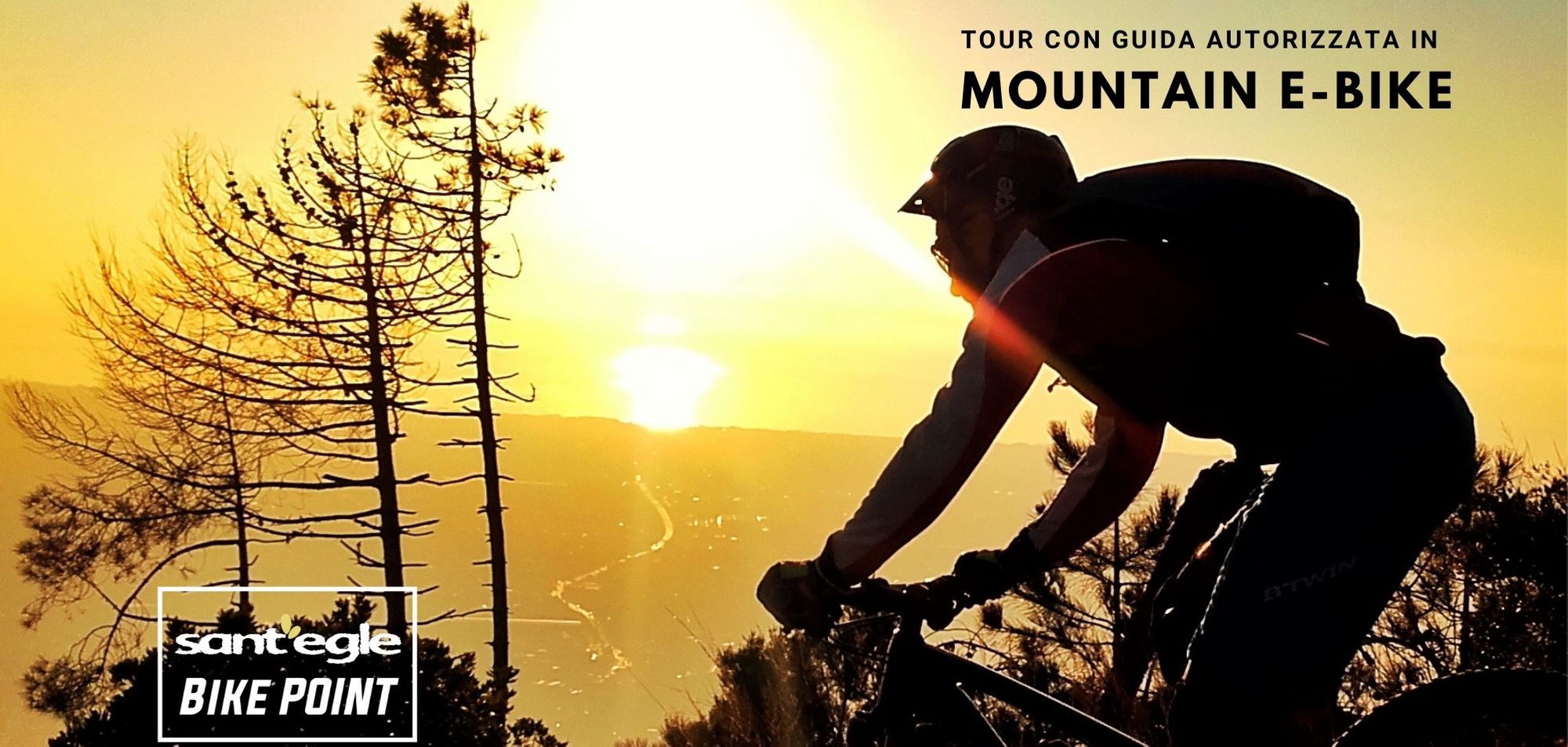 Tour guidati in E-Bike
su richiesta offriamo tour guidati per l'intera mattinata o pomeriggio in Ebike con guida autorizzata, in luoghi mozzafiato della Maremma Toscana.
Il tour ha un costo di 120€ per una persona e 160€ per due persone.
Acqua potabile
ci sono due fonti di acqua potabile a disposizione 24/24.
Se desideri acqua gassata, puoi venire con la tua borraccia alla reception. Il servizio è gratuito.
Super Colazione BIO

la nostra colazione è stata paragonata da molti ad un pranzo per la varietà di prodotti dolci e salati che ci sono.
Ma siamo molto fieri di proporre a tutti coloro che spenderanno la propria giornata in bicicletta una colazione sostanziosa ma equilibrata completa della nostra Spirulina bio.
Siamo stati, dal 2010 i primi produttori in Italia di Spirulina biologica che contiene 8 aminoacidi essenziali fondamentali per avere forza spendibile durante la tua pedalata e per un facile e veloce recupero post prestazione.
Bevande e pasti BIO a qualsiasi ora del giorno e della notte

Vicino alla nostra piscina c'è un Honesty Bar dove a qualsiasi ora è possibile trovare bevande calde, alcoliche, analcoliche, succhi, frutta e qualcosa di mangiare di sano e nutriente.
Previa prenotazione è possibile trovare un pasto sano, buono e nutriente in camera, a qualsiasi orario d'arrivo. Maggiori info qui!

Pranzo a Sacco
previa prenotazione è possibile un pranzo al sacco, nel rispetto di diete sportive, intolleranze e restrizioni alimentari.
Lavanderia
possiamo lavare ed asciugare al sole della Maremma i tuoi capi al costo di 10€/lavatrice. In altenativa c'è un wash and dry nella vicina Pitigliano ed un filo per stendere.

Massaggi e Fisoterapista
previa prenotazione è possibile avere il servizio di massaggi sportivi e fisioterapista. A Pitigliano oltre al pronto soccorso c'è anche l'ospedale di Medicina integrata. Maggiori info qui!

Tracce GPS
Sant'Egle è il luogo ideale per una vacanza bicicletta in Toscana.
Presso la reception è possibile avre il link per scaricare una selezione di suggestive tracce Gpx per MTB, Gravel e bici da strada.
I tracciati sono su strade bianche, boschi, canyon, sentieri, single track ed asfalto.
Ogni ciclista è responsabile delle proprie capacità nel pedalare le tracce scaricate.
Itinerari V.I.P
In molti hanno definito Sant'Egle, l'obelico del Mondo perchè abbiamo il privilegio di essere sfiorati da molte manifestazioni, sentieri, tracciati e single track, così famosi che vengono a pedalarli da tutto il mondo.
Ecco alcuni nomi, il Primitivo, Italia Coast to Coast, Via Francigena, Tuscany Trail, Via Clodia, l'Anello dei Briganti, il Sentiero dei Briganti, il Vetta Mare, la salita di Pantani di Poggio Murella, i tracciati da enduro dell'Amiata, il Maremma Challenge e molti altri.
Se vuoi scaricare le tracce, clicca qui!

Recupero in caso di difficoltà
in caso di bicicletta in panne, offriamo il servizio di recupero di bicicletta e ciclista.
Il servizio ha un costo di 2€/km.
---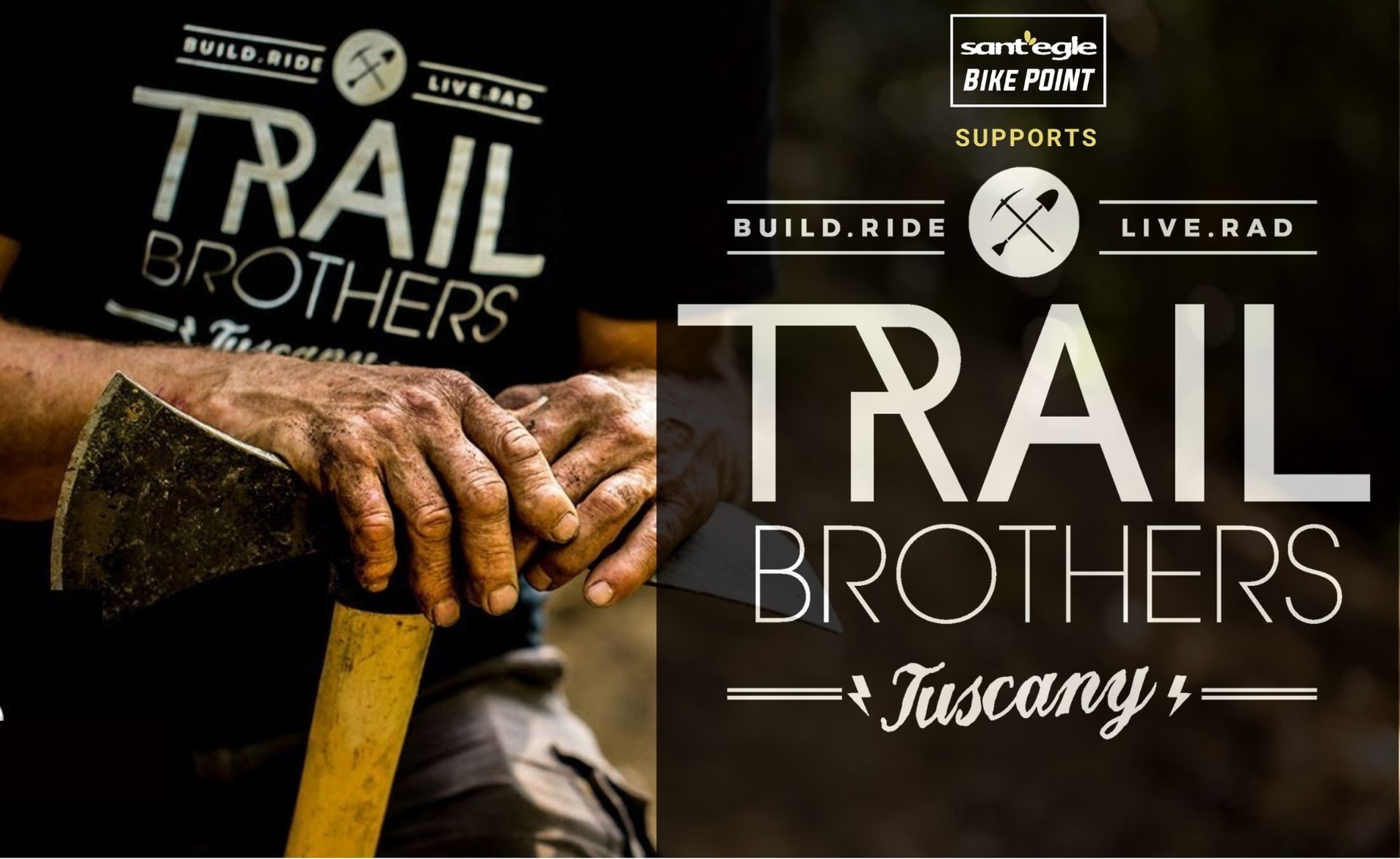 Bio Shop

We are open by appointment only. Please Call before come. We can ship in all Europe. You can shop...

Bio Pool & Hot Tub

The pool area is silent and relaxing. The bathing area is extremely limited in space, meaning...
Heaven on Earth!
The only problem with Sant'Egle is that eventually, you have to go home.
Charleston, SC
Amazing! Sant'Egle is the dream of two passionate people that brings to life a 5-Star experience with justice yet comfortable tones. I marveled at the mansion built in 1600 and how elegantly and tastefully it has been restored. Andrew G, USA

LE PARADIS! produits bio, ambiance zen, propriétaires aux petits soins ! Le dépaysement ! La vue est incroyable, on est au calme, et en meme temps près d'endroits à visiter. C'était notre première expérience et franchement chaque jour je reve d'y retourner. Julie Paris

Heaven! What a lovely place. We enjoyed 3 very relaxing, beautiful days here in the peaceful environs, with the distant sound of sheep bells and the occasional visit from very friendly cat and dogs.
Kates

Burlington, Vermont
Un'Oasi nella Natura...è un vero paradiso per chi ama natura, tranquillità e animali. Daniela A, Cesenatico
Fantastiskt! Detta ställe behöver upplevas! Det är verkligen speciellt på många sätt, och vi var mer än nöjda med allt. Ligger i vackra omgivningar med en inbjudande trädgård och liten pool. De tillverkar själva det mesta som serveras. Rummen var väldigt mysiga och man sov som en stock om nätterna då det både var så tyst och skönt och så sköna sängar. Underbart att vakna och insupa den härliga luften.Värdparet är så tillmötesgående och gör allt för att man ska trivas. Vi tillverkade fårost en dag, och fick sedan avnjuta den med bröd och vin i trädgården, mycket trevligt! Vi längtar efter att få komma tillbaka! Charlotta Svezia
Great place... but don't tell to everybody! we were disappointed because we booked only 4 days. We could have stay more! Simone and Davy, New Zeland

Traumhaft! Wir wollten uns erholen, den ersten Urlaub mit unserem 8 Monate altem Hund machen und die südliche Toskana erkunden! Sant egle war traumhaft, das Zimmer perfekt, der wunderschöne Garten mit Biopool, Hängematten, Sitzgelegenheiten und Grillecke wunderbar! Bei der Ankunft sind wir mit einem schönen Glas Biowein, Brot und toskanischen Spezialitäten begrüßt worden. Lappe Germany
Momentos de Conexão! falar do sorriso através dos olhos, do carinho no atendimento, do amor no preparo da alimentação totalmente orgânica, no empenho em solucionar qualquer eventualidade. Fabiana, Rio de Janeiro
Bio Pool & Hot Tub
Our Organic Summer pool is constructed with natural materials, without a hint of cement, in the shape and appearance of a natural lake.
The pool area is a place for relaxation and silence.
The swimming area is very small and therefore is not suitable for exercise or play activities.
The maximum depth is 1.4 meters or 4 feet 7 inches.
Water purification is entrusted to an electrolysis filter which transforms the whole natural salt from Trapani in the WWF region into natural chlorine that prevents the formation of algae and disinfects the water.
For that your skin will not be ruined by chlorine and algae of chemical origin.
Our Pool is open from 9am to 7pm only for the guests of Sant'Egle.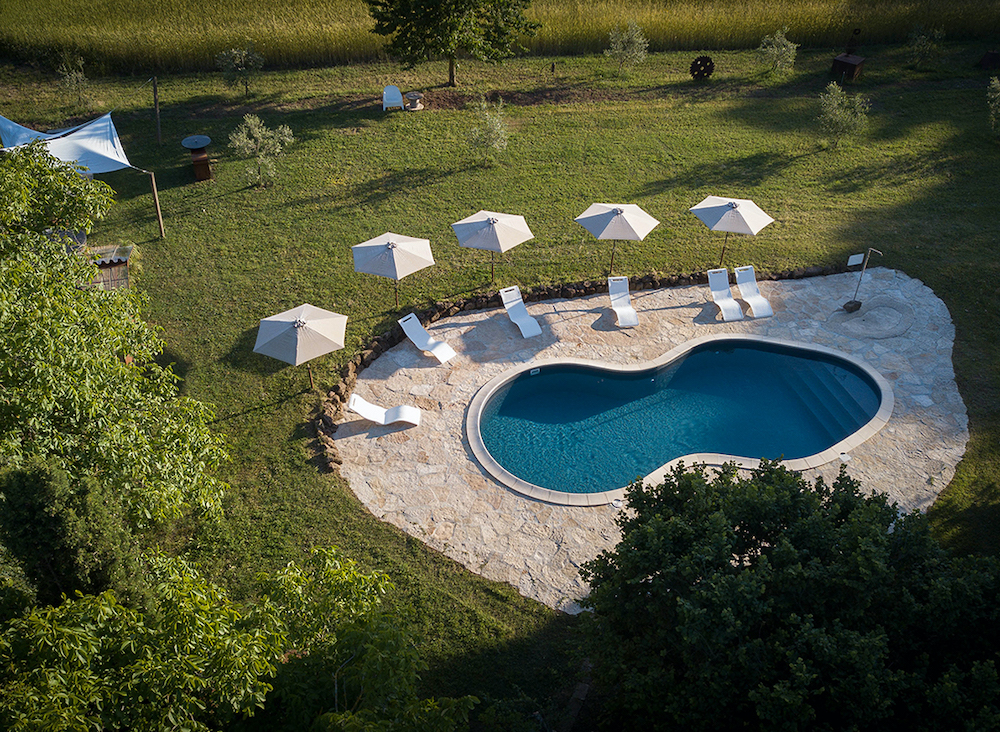 Holistic Space for Retreats
At the Sant'Egle Organic Agriturismo, there is a new multi-purpose space available to anyone who would like to organise courses, cultural events, presentations, shows, readings, or spiritual retreats.
Sustainably built, and fully respecting the guidelines of an energetically passive house, this space breathes as if it were living. It takes in and releases moisture based on its climactic needs, thanks to the use of clay and thatching as thermal insulation in the walls and floor.
The recycled-wood beams follow the curvature of the hill, with natural light flooding in thanks to the side-facing windows.
The entrance has a large window which can be opened. It is kissed by sunrise each morning, looking out over the organic vegetable garden.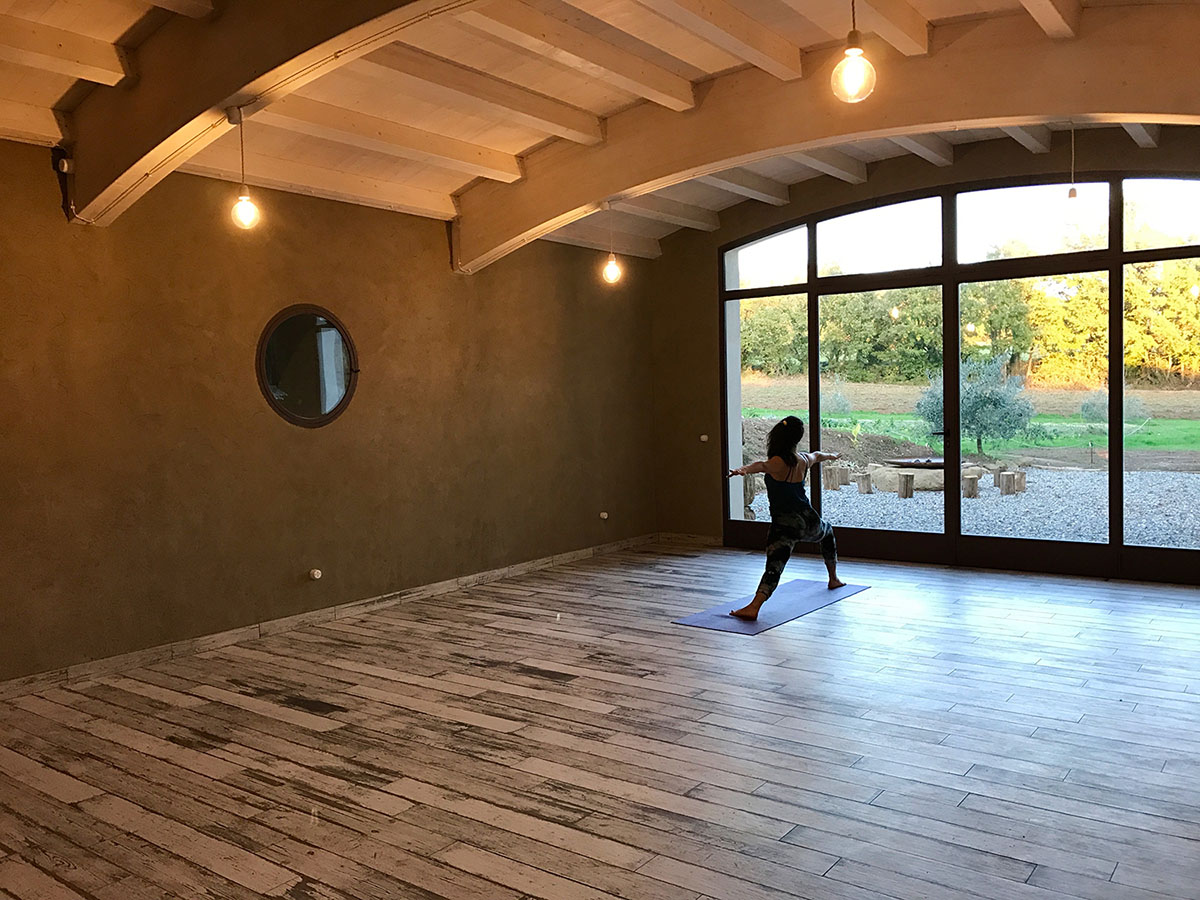 Creative UpCycling
At Sant'Egle, we like to recycle everyday objects and artistic pieces – all those things that consumers would regularly throw away.
Only those who are passionate about land reclamation, bins, landfill sites, and scrap metal can understand the satisfaction that comes with seeing beyond this; the satisfaction in realising that something which is lost, thrown away, broken, old, rusty, or unused, can be transformed into something more.
We at Sant'Egle collect everything, and divide it by material type.
Then, when we can find the time, we sit ourselves down in front of our 'junkyard'.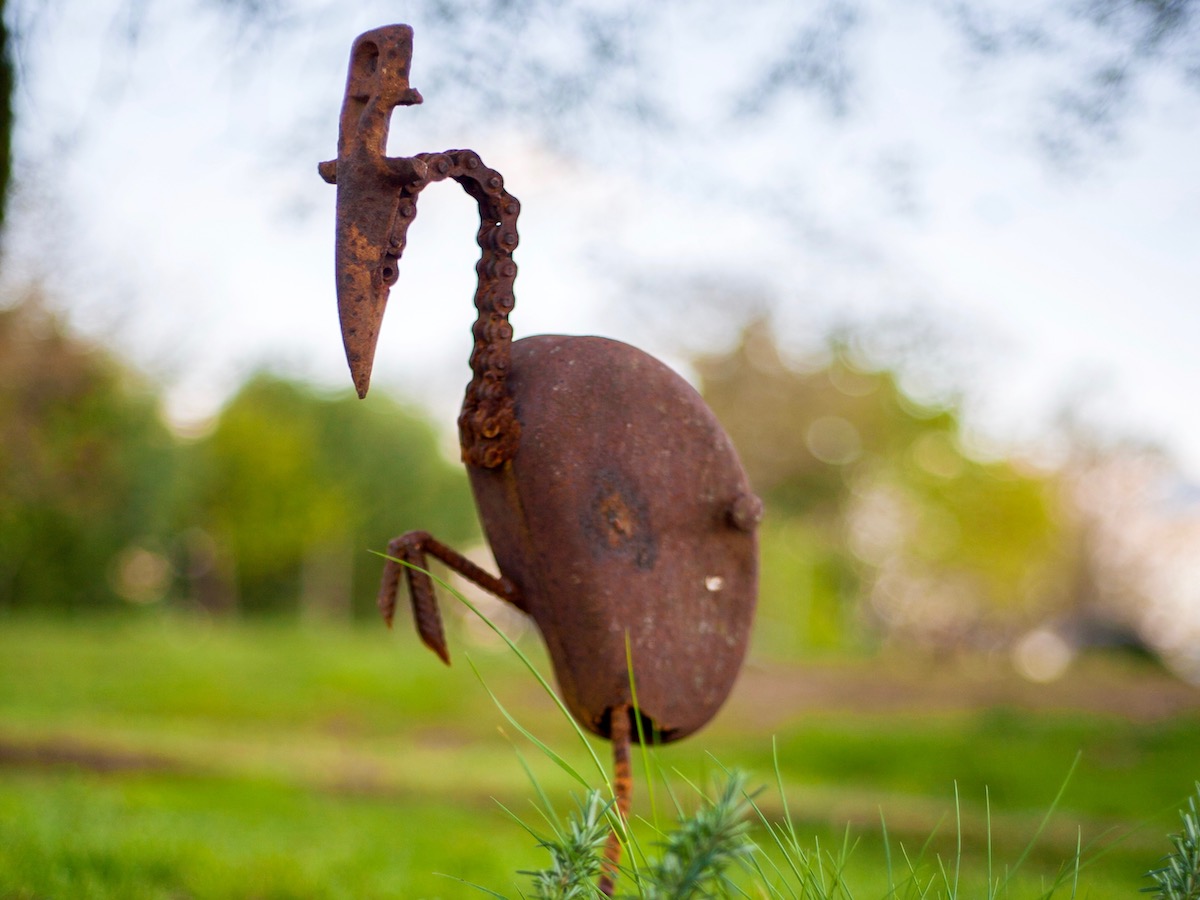 MUST SEE, SANT'EGLE'S

SURROUNDINGS
Do you love nature? Are you a nature photographer? Are you interested in the Etruscan civilisation, the cities of Tufo, the ancient mines, and the hot springs? Are you a cyclist, who loves to follow the rugged pathways on an MTB? Do you want to do yoga, surrounded by nature, or run through untouched forests? Do you want to visit the Uccellina National Park, or go for a dip in the crystalline waters of the Argentario? Do you want to visit the unknown island of Giannutri, or the more famous Giglio island? Do you want to go swimming in the ancient volcano lake, Bolsena, or trek through the beech forests of Mount Amiata? All these activities, and many more, are available through daily excursions from the agriturismo.