BIO PISCINA & HOT TUB
Organic Natural Pool & Hot Tub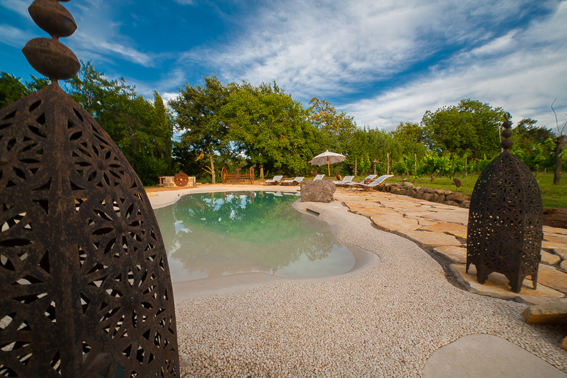 Our Organic Summer pool is constructed with natural materials, without a hint of cement, in the shape and appearance of a natural lake.
The pool area is a place for relaxation and silence.
The swimming area is very small and therefore is not suitable for exercise or play activities.
The maximum depth is 1.4 meters or 4 feet 7 inches.
Water purification is entrusted to an electrolysis filter which transforms the whole natural salt from Trapani in the WWF region into natural chlorine that prevents the formation of algae and disinfects the water.
For that your skin will not be ruined by chlorine and algae of chemical origin.
Our Pool is open from 9am to 7pm only for the guests of Sant'Egle.
To maintain the natural purification cycle of the pool, guests are asked not to use sun protection with parabens, petroleum or chemical substances, but only natural sunblock products. We do not supply this type of product, and invite you to buy them before arrival at the farmhouse.
By law, parents must accompany their children by the pool area.
It is possible to rent pool towels in the farmhouse at a cost of 2€.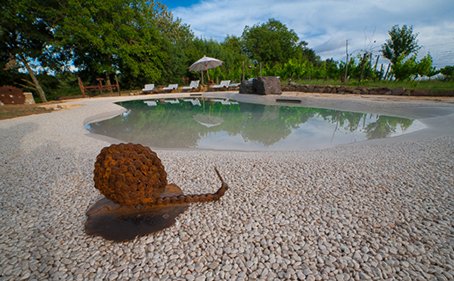 ---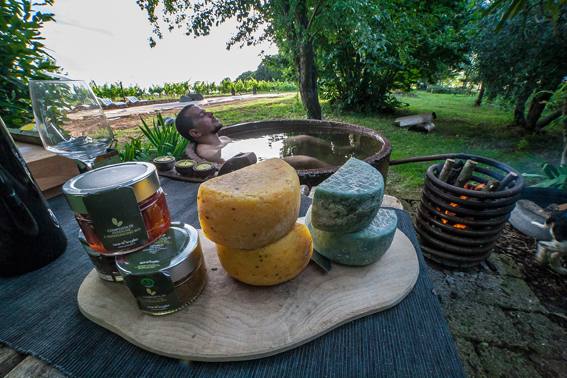 DINNER IN THE SPA
Imagine yourself immersed in a tub of water, heated by a fire fueled by wood, imagine being in the middle of nature, near the nests of a flock of birds painted with 1000 colors. Imagine having dinner with the sunset, candlelight, and the stars. Imagine an organic spread upon a cutting board with everything that we produce, accompanied by our sourdough bread and a good organic wine or one of our raw craft beers. Imagine an evening all to yourself and your senses.
Now you can stop imagining and visit Sant'Egle to experience everything there Emoticon smile
Cost € 100 per couple.
Please call at least 12 hours in advance, so that we can prepare the hot tub for you.