Sant'Egle Organic Farm
Eco Resort for a sustainable zero-impact holiday

This historic home was the Customs House in the 1600's where the people who crossed the border between the Papal State and the Grand Duchy of Tuscany (a since-passed Italian monarchy) would come in search of rest.
The charm of this historic home, so rich in legends, has been carefully restored and is the destination for those seeking an exclusive place, tastefully furnished, characterized by hospitality and genuine Tuscan organic flavor.
Heaven on Earth!
The only problem with Sant'Egle is that eventually, you have to go home.
Charleston, SC
Amazing! Sant'Egle is the dream of two passionate people that brings to life a 5-Star experience with justice yet comfortable tones. I marveled at the mansion built in 1600 and how elegantly and tastefully it has been restored. Andrew G, USA

LE PARADIS! produits bio, ambiance zen, propriétaires aux petits soins ! Le dépaysement ! La vue est incroyable, on est au calme, et en meme temps près d'endroits à visiter. C'était notre première expérience et franchement chaque jour je reve d'y retourner. Julie Paris

Heaven! What a lovely place. We enjoyed 3 very relaxing, beautiful days here in the peaceful environs, with the distant sound of sheep bells and the occasional visit from very friendly cat and dogs.
Kates

Burlington, Vermont
Un'Oasi nella Natura...è un vero paradiso per chi ama natura, tranquillità e animali. Daniela A, Cesenatico
Fantastiskt! Detta ställe behöver upplevas! Det är verkligen speciellt på många sätt, och vi var mer än nöjda med allt. Ligger i vackra omgivningar med en inbjudande trädgård och liten pool. De tillverkar själva det mesta som serveras. Rummen var väldigt mysiga och man sov som en stock om nätterna då det både var så tyst och skönt och så sköna sängar. Underbart att vakna och insupa den härliga luften.Värdparet är så tillmötesgående och gör allt för att man ska trivas. Vi tillverkade fårost en dag, och fick sedan avnjuta den med bröd och vin i trädgården, mycket trevligt! Vi längtar efter att få komma tillbaka! Charlotta Svezia
Great place... but don't tell to everybody! we were disappointed because we booked only 4 days. We could have stay more! Simone and Davy, New Zeland

Traumhaft! Wir wollten uns erholen, den ersten Urlaub mit unserem 8 Monate altem Hund machen und die südliche Toskana erkunden! Sant egle war traumhaft, das Zimmer perfekt, der wunderschöne Garten mit Biopool, Hängematten, Sitzgelegenheiten und Grillecke wunderbar! Bei der Ankunft sind wir mit einem schönen Glas Biowein, Brot und toskanischen Spezialitäten begrüßt worden. Lappe Germany
Momentos de Conexão! falar do sorriso através dos olhos, do carinho no atendimento, do amor no preparo da alimentação totalmente orgânica, no empenho em solucionar qualquer eventualidade. Fabiana, Rio de Janeiro
Bio Pool & Hot Tub
Our Organic Summer pool is constructed with natural materials, without a hint of cement, in the shape and appearance of a natural lake.
The pool area is a place for relaxation and silence.
The swimming area is very small and therefore is not suitable for exercise or play activities.
The maximum depth is 1.4 meters or 4 feet 7 inches.
Water purification is entrusted to an electrolysis filter which transforms the whole natural salt from Trapani in the WWF region into natural chlorine that prevents the formation of algae and disinfects the water.
For that your skin will not be ruined by chlorine and algae of chemical origin.
Our Pool is open from 9am to 7pm only for the guests of Sant'Egle.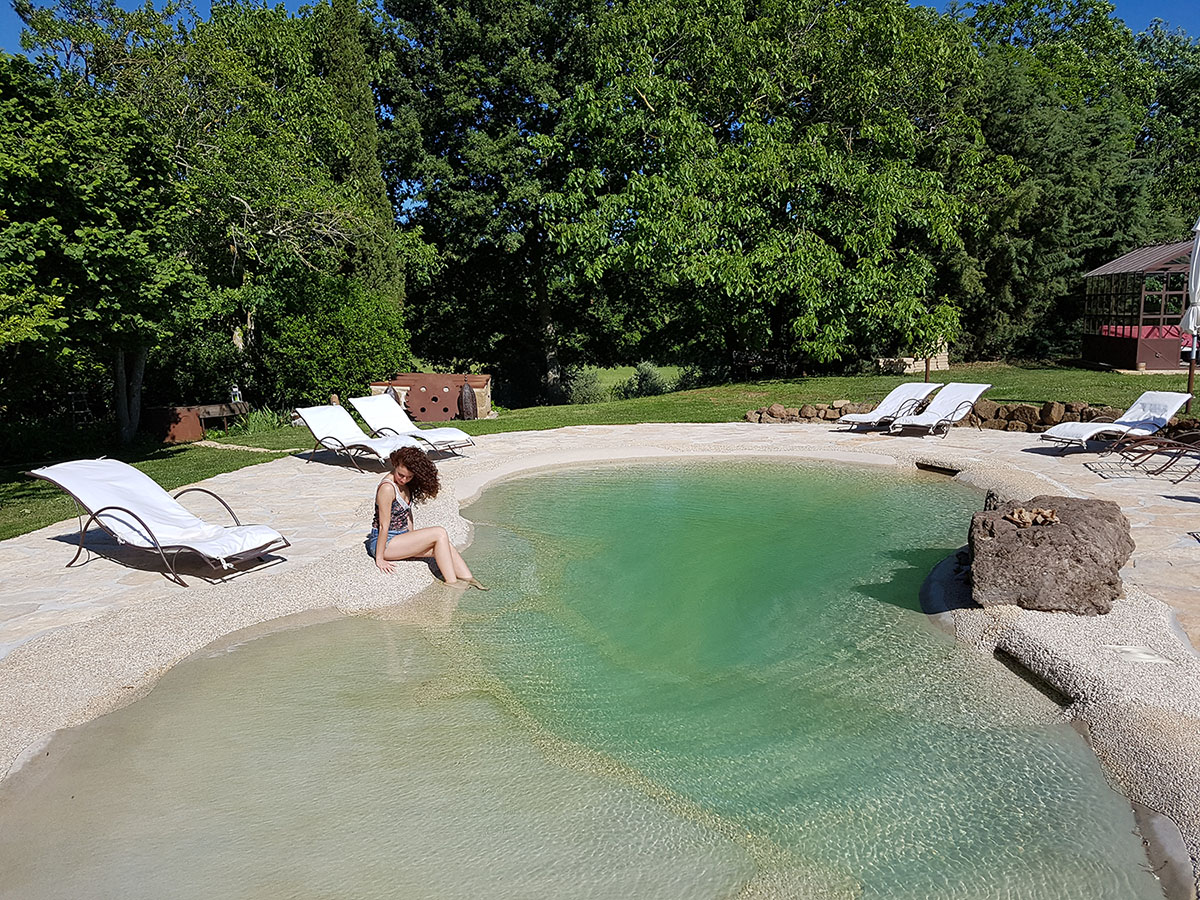 Holistic Space for Retreats
Sant'Egle Organic Farm offer a new multifunctional event space available free to all who wish to organize a course, cultural event, presentation, show, reading, or spiritual retreat.
Constructed using historic and eco-friendly methods, this energy passive building breathes like a living being, capturing and giving moisture as needed, keeping the space comfortable year-round with the use of clay and straw as insulation on the walls and floor. Reclaimed wooden beams trace the curve of the hill and natural light streams harmoniously through side windows.
The entrance has a large glass door, which is kissed by dawn's first rays of sun peaking over the organic synergistic orchard. The building is discreet in the midst of our Tuscan landscape due to its grass roof.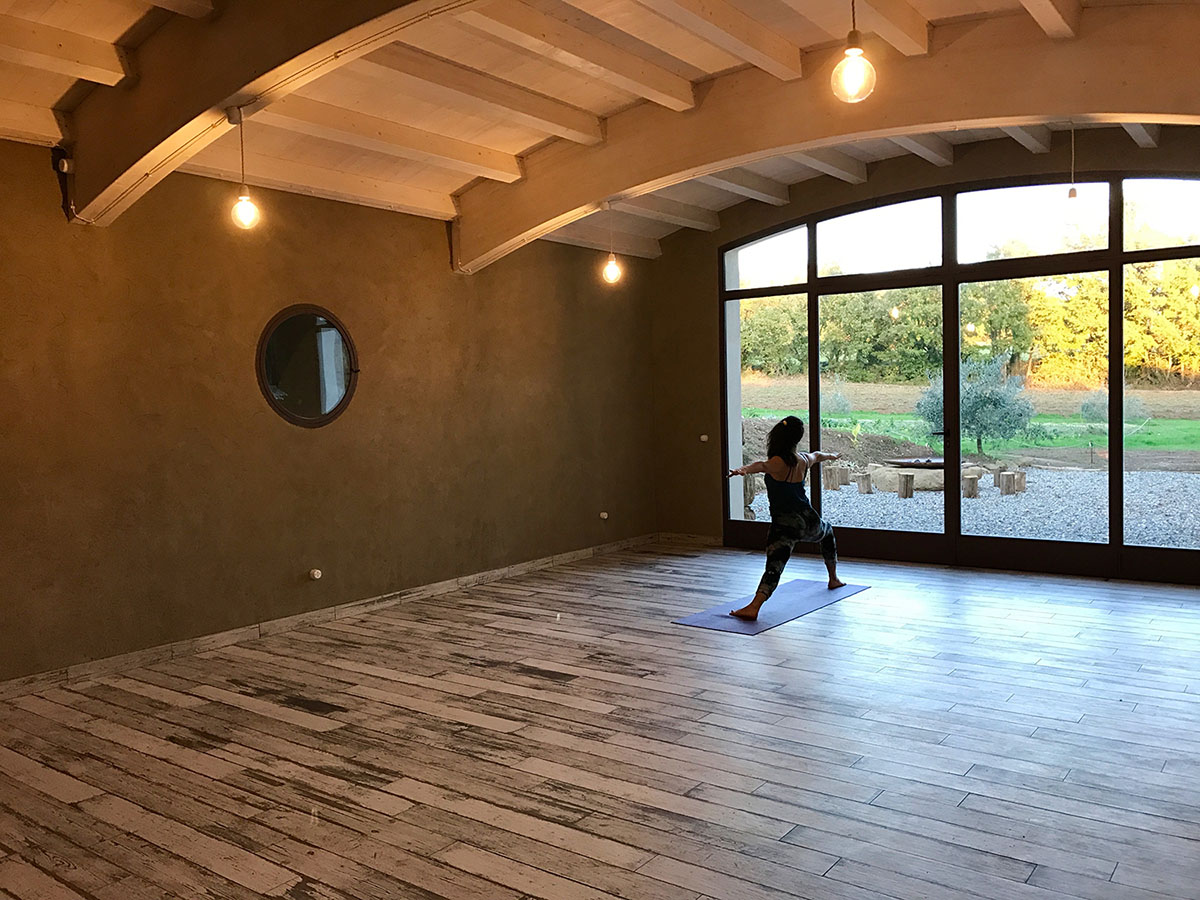 Buy Organic
As craftsmen of the earth, we make this genuine Italian product by hand, beginning with produce grown organically in an area rich with minerals and fresh air, far from chemical, noise, light, or electromagnetic pollution. Each batch is unique, as we do not alter any of the natural flavors, respecting and embracing nature and its cycles. What is available on the market depends on what the season brings. There is no compromise in quality; we are passionate dreamers who maintain that quality should prevail over the expectations of modern markets. We believe that true luxury and happiness is defined by the ability to stop, enjoy silence, listen to good taste, and share in moments of harmony with nature.
Creative UpCycling
We love Upcycling objects of common use and in artistic pieces, all that consumerism would throw away.
Only those who are passionate about environmental remedies, bins, dumps, and rusty pieces can understand the satisfaction you experience in seeing beyond, understand that an object found, thrown, broken, old, rusty, no longer used for years, can turn into another .
We at Sant'Egle collect everything and divide it by type of material.
Then, calmly, when we have time, we sit in front of our 'dump'.
Our 'visions' show us how to assemble all of this 'pebbles' that many would slip away.
Every time we build something, we'll publish it on this page.
With this gesture, we hope to stimulate your creative minds, instead of seeing a new object, they will recycle an old one.
We look forward to your works and ideas, we have mental and material space to host them!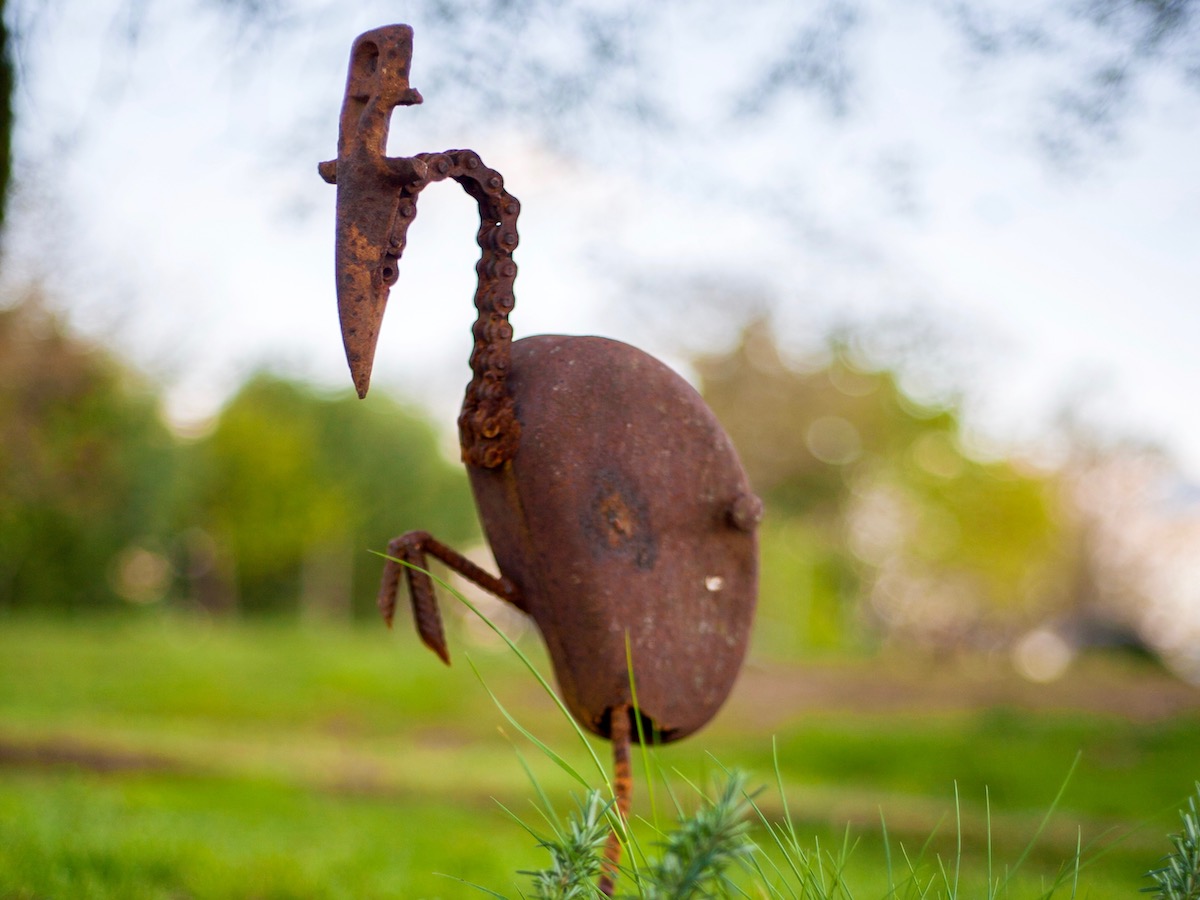 MUST SEE, SIDE SEEING IN SANT'EGLE

SURROUNDINGS
Do you love nature? Are you a naturalist photographer? Are you interested in the Etruscans, the cities of Tufo, the ancient mines, the hot water spas? Are you a cyclist, you love the difficult paths to do in MTB, do you want to do Yoga in nature or run in the wild forest? Do you want to visit the Uccellina National Park or swim in the crystal clear waters of the Argentario? Do you want to visit the unknown island of Giannutri or the famous Giglio? Do you want to swim in the ancient volcano of Bolsena lake or stroll in the beech-wood of Monte Amiata? Everything and much more can be done with daily trips from the farm.